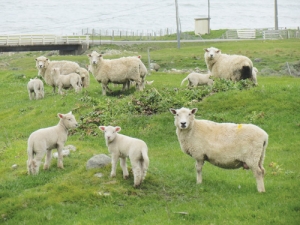 Southdown breeder Chris Medlicott says farmers too often focus on the price per lamb instead of the return on kilograms of dry matter eaten.
He says more lambs sold off the ewe at weaning equates to higher efficiency, but this is not always achievable on different classes of country.
Medlicott says high lamb weaning weights are achieved by high quality feed, milking ability of the ewe and genetic ability to grow and lay down muscle. He also believes early spring country plays its part.
"For lambs left after weaning, it is important to have them growing at speed. The quicker those lambs exit your farm over summer the more options you have to improve next year's production or take on trading stock."
Medlicott says a simple way to work out the value is on a weak schedule price, like that predicted for the upcoming main killing season.
"At $5/kg a 17kg lamb brings $85," he explains. "Lambs left after the December 10 weaning draft – with an average liveweight of 28kg — at a store value of $2.40/kg bring $67.20 per head.
"But when these lambs reach an average kill weight of 17kg by January 12 it equates to a return of only 28 cents per kilo of drymatter consumed.
"At a later killing date of January 29 the return will only be 23 cents, and if killed on March 20 the return will now be only 14 cents per kilo of dry matter consumed."
Medlicott says the key message is for farmers to do their sums, taking into account a range of things including climatic conditions.
"Getting lambs away early is one of the strengths of the Southdown breed. A really positive attribute of the Southdown is they don't suffer a weaning check, so you can be back drafting soon after weaning.
"A true terminal should be exactly that – gone in a hurry."